[vc_row][vc_column][vc_column_text]
Timeline and Music – Monday 4th May 2015
[/vc_column_text][/vc_column][/vc_row][vc_row][vc_column][vc_column_text]
On the Spring Bank Holiday Monday, the Right Worshipful Mayor of Southampton, Councillor Sue Blatchford, made her first ever visit to St.James' Park to unveil the recently produced "Shirley Timeline".
One tug and the blue curtain dropped to reveal the timeline – thanks go to our FoSJP volunteers Mike, David, Vicki, and Nigel for their part in designing the curtain – it worked perfectly!
Conceived and produced by the FoSJP History Team as part of the Shirley Heritage Project, the timeline depicts the history of the Park, both visually and in text, set against a backdrop of British and world history. It includes maps, photographs, old postcards, images of artefacts from museums, and photographs donated by members of the public. There are also silhouettes on the timeline that reveal changes in fashion and children's toys. Some of these silhouettes are of real Shirley people dressed in period costume; others were created by artist Anna Vickers, who took the design concept and crafted it into this visual masterpiece.
FoSJP History Coordinator Michaela Lawler‑Levene and Anna are both grateful for the support of Karen Wardley of Southampton City Council Arts and Heritage, who sourced the earlier images on the timeline and who also gave expert guidance on the historic periods.
After the unveiling, the Mayor was given a tour of the Park by Michaela, and to round off her visit, afternoon tea for the Mayor and invited guests was provided by the ParkLife Café.
Meanwhile visitors to the Park were entertained by local musicians The Guvna's, who played an entertaining selection of folk, blues, and bluegrass music on the Café decking – there was much foot tapping in evidence and a few people were brave enough to dance. For younger visitors there was a crafts stall and sweet and toy tombolas.
Authors and contributors to the St.James' Park History Book were on hand to discuss and sign copies of the book, all profits from which will go to FoSJP to help produce more books and to contribute towards community projects.
[/vc_column_text][vc_column_text]Thanks go to members of the FoSJP History Team who have spent many years collecting the material for the Shirley Timeline, and to everyone who shared a photo with us.[/vc_column_text][/vc_column][/vc_row][vc_row][vc_column][vc_column_text]
Yes - there it is...! (Dan Levene)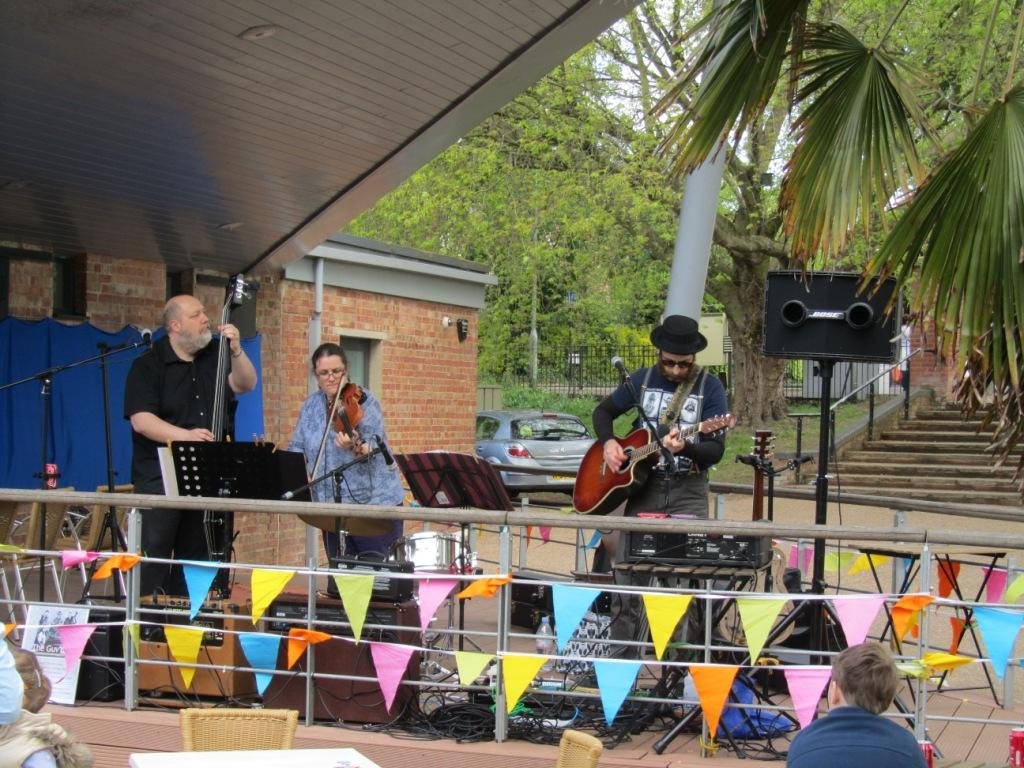 St.James' Park awaits the unveiling, while The Guvna's keep us entertained (Michaela Lawler‑Levene; Mike Sanderman)
The Shirley Timeline in situ (Michaela Lawler‑Levene)
Sweet Tombola (Michaela Lawler‑Levene)
St.James' Park awaits the unveiling, while The Guvna's keep us entertained (Michaela Lawler‑Levene; Mike Sanderman)
Afternoon tea is served in the ParkLife Café (Dan Levene)
Anna explains some of the finer points to the Mayor (Dan Levene)
Some of the key contributors to the Shirley Timeline with the Mayor Michaela Lawler‑Levene, Ken Conway; Mary & Don Smith; the Mayor, Anna Vickers, Madge Heath (Dan Levene)
...the Shirley Timeline is unveiled (Dan Levene)
Well done to Mike and team for a perfectly working curtain (Dan Levene)
Now, will this curtain work...? (Dan Levene)
The Mayor starts proceedings, with help from FoSJP chair Tania Emery and FoSJP History Coordinator Michaela Lawler‑Levene (Dan Levene)
St.James' Park History Book stall (Dan Levene)
[/vc_column_text][/vc_column][/vc_row]