[vc_row][vc_column][vc_column_text]History Book Presentation – Wednesday 1st April 2015[/vc_column_text][/vc_column][/vc_row][vc_row][vc_column][vc_column_text]
The Right Worshipful Mayor of Southampton, Councillor Sue Blatchford, welcomed the Friends of St.James' Park to a rather special event at Southampton Civic Centre on Wednesday 1st April 2015. This event was to formally present the City of Southampton with copies of the book "St James' Park – From Rec to Renovation, 1907 – 2014", written by Michaela A Lawler‑Levene and the FoSJP History Team.
The Mayor formally welcomed the guests and invited them into the Mayor's Reception room. Authors, researchers, members of the production team, artists, interviewees, and FoSJP volunteers joined the celebration, where copies of the book were presented by Jon Dyer‑Slade of Southampton City Council, Michaela Lawler‑Levene of FoSJP, and the Mayor to those individuals and organisations who had supported this project.
A range of organisations received complimentary copies of the book, including local schools, libraries, archives, universities, and local councillors. FoSJPvolunteers, both adults and children, were honoured for the hours of dedicated time given freely to this project over the past five years.
Feedback from guests:
"Splendid event. Well done."
"The reception in the Mayor's parlour was a warm and friendly event, which celebrated the history of the Park and how the Shirley Heritage Project was a major catalyst for the regeneration of the Park."
"We loved coming to the Mayor's parlour, and sharing this celebration with friends who have been involved in the Park and its fascinating social history."
"Thank you for such a warm and friendly celebration evening."
"A fascinating book, packed with interesting stories and many pictures of this much‑loved Park."
"Very proud to have been part of this. Thank you."
[/vc_column_text][/vc_column][/vc_row][vc_row][vc_column][vc_column_text]
The Mayor's Reception Room (Dan Levene)
The Mayor shows Mrs Peggy Crockett the key that the Duke of York (later King George VI) used to officially open the Civic Centre in 1932 at a ceremony at which the young Mrs Crockett was present (Julie McKay)
The Mayor and her guests (David Wheatley)
FoSJP Chair Tania Emery thanks Michaela on behalf of FoSJP (David Wheatley)
The Mayor invites the guests into the Mayor's Reception room and describes its historical artefacts (David Wheatley)
The Mayor invites the guests into the Mayor's Reception room and describes its historical artefacts (David Wheatley)
Plenty of interest at the bookstall (David Wheatley)
Myleta Wilkins and Rosie Kinge on behalf of Shirley Infant and Junior School - they also received personal copies for their volunteering at FoSJP History events (Dan Levene)
Lydia Caveney and Ben Gardner representing the many young people who have volunteered at FoSJP events (Dan Levene)
Trudie Smith on behalf of Wordsworth Primary School (Dan Levene)
Artist Anna Vickers, who played a large part in the production of the book (Dan Levene)
Peter Lloyd and children Theo and Rowan on behalf of Southampton Solent University (Dan Levene)
Karen Wardley on behalf of Southampton City Arts and Heritage, City Archives, and Southampton Art Gallery (Dan Levene)
Vicki Green on behalf of Southampton Library Service (Dan Levene)
Cindy Phillips from the FoSJP Oral History Project (Dan Levene)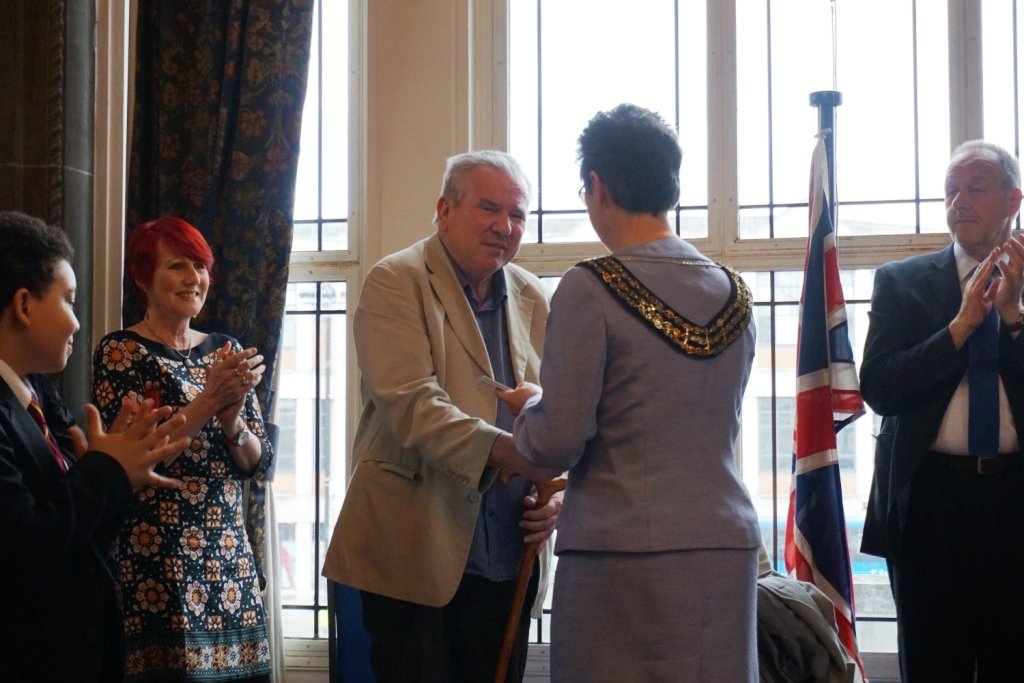 The Mayor presents a book to Robert Grice, whose generous donation of an archive launched FoSJP's history activities (Dan Levene)
Michaela Lawler‑Levene of FoSJP (Dan Levene)
Jon Dyer‑Slade of Southampton City Council (Dan Levene)
[/vc_column_text][/vc_column][/vc_row]
FoSJP History Book Presentation