Sunday, 04 October 2009

12:00 am
Public History Talks, October 2009 – March 2010
Much to discuss over tea and cake in the interval!
Thank you to everybody who supported this series of public talks. Although it's now finished, we hope to be able to arrange a further series of talks, starting in Autumn 2010.
This series was very well attended, with between 37 and 72 people at each session (average 52). We received very positive feedback from members of the audience at all the sessions, and at the final session 40 people completed a feedback questionnaire.
1. "A Brief History of Shirley, 10,000 BC – 2000 AD"
Speaker: Rosaleen Wilkinson (local historian, author, historical garden restorer)
Rosaleen opened the series, providing a background into Shirley's local history, from pre-historic times to the modern day.
Starting in pre-historic times, Rosaleen traced the history of Shirley from its ownership by an Anglo-Saxon prince, through the years after the Norman Conquest, when the Domesday Book listed five slaves among its inhabitants, and on into the Middle Ages.
In later centuries, life became easier for Shirley people, and she described the era of elegant mansions and then the growth of suburbia, right up to the present day.
The talk was illustrated by slides, which included ones of her own family's business in Shirley High Street.
Sunday 4th October 2009
2a. "Southampton in the Age of Steam and Expansion"
Speaker: Jake Simpkin (local historian, history tutor, tour guide)
Jake led the audience through the period of Victorian Expansionism in Southampton, a time when the Railways were being built and steam impacted on the development of ships and indeed the port of Southampton.
The Railway line between Southampton to London was opened and the port became the Gateway to the British Empire. The Southampton Emigration and Shipping Company, formed in 1846, forged links with the United States, Canada, Australia, and South Africa. Jake showed us slides of a beautiful, picturesque Southampton, where houses looked out to Southampton Water, complete with beach and bathers. Life was very much more associated with the water – no sign of the industrial estate that now separates the City from its waterfront.
2b. "Local Links with the Victorian Railway"
Michaela Lawler-Levene, FoSJP History Coordinator, followed Jake's talk with a presentation of FoSJP's findings on the proposed route of the Didcot, Newbury and Southampton Railway, which in 1881 had been scheduled to pass through Shirley.
Michaela's talk focused on a recently donated copy of a map, showing a proposed Didcot, Newbury and Southampton Railway route. It did not pass through the Park, as many local people had expected, but crossed Bellemoor Road four houses behind St.James' Park, crossing closely by what would be now Shirley Junior School playground before crossing Winchester Road. Work stopped on the railway in Southampton in October 1883. Audience comments included that this might have been one of several proposed routes. The research is ongoing on this topic.
Sunday 1st November 2009
3a. "The Rescuers – Women and Philanthropy in the 19th Century"
Speaker: Dr Jane McDermid (University of Southampton)
As the first part of a double bill, Jane provided us with a fascinating background into Victorian charitable works and philanthropy.
Jane had been invited to provide the wider national context to the many Victorian charitable institutions around the Park. Her talk gave an insight into the religious links with charitable work and the opportunities these gave middle class women to participate in civic life. She gave examples of specific experiences of philanthropic couples, notably William (later Lord) and Georgiana Cowper-Temple of the Broadlands estate, and women such as Octavia Hill (1838-1912), Louisa Twining (1820-1912), Ellen Ranyard (1810-1879), and Mary Sumner (1828-1921).
This was also a period of Temperance movements, with issues around sexual morality high on the agenda. Jane linked these concerns to example organisations which were directed at the working classes, notably the Girl's Friendly Society, the first of which was set up in Hampshire by Mrs Mary Townsend. Of particular interest to us in the Shirley area was the mention of Thomas Barnado's First Ragged School which opened in London in 1867, since a Barnado's orphanage overlooked the Park.
3b."Charity begins in a Home – The Charitable Buildings around the Park"
Speaker: Mary South (self-professed "Jill of all Trades and Mistress of None", local historian, biologist/ecologist, lover of the seamy side of life!)
As the second part of this double bill, Mary gave us an insight into life within a Charitable Institution with her very imaginative in-character performance piece.
Maggie and Effie are two sisters living at Millbrook. When their mother dies, Maggie, the younger, is sent to the Sheltering Home of Industry for Girls. This had been set up initially at Langton Cottage in Millbrook, but now overlooks St.James' Park in Shirley.
Effie is too old to go to the home and, having no skills to offer locally, is tempted to go to Southampton. Suspected by the Police of being a prostitute, because she's an unaccompanied female, she's detained under the Contagious Diseases Act* and sent to the lock-up ward for venereal diseases, at the Workhouse. Mrs Kell helps Effie make her legal case against her incarceration and forced treatment.
[* Southampton was the only civilian port to have this Act enforced: the rest were naval ports.]
Meanwhile, Maggie is trained as a domestic servant and gets a job at the Children's Hospital in Church Street. Eventually she moves with it up to its new home in Winchester Road, overlooking St.James' Park. When she becomes too arthritic to carry out all her duties at the Hospital, she successfully applies for a room in the Barlow Almshouses, in Church Street. Coincidentally, it was Mrs Barlow who had given Maggie her uniform at the Sheltering Home of Industry; Maggie has a lot to thank the Barlows for. Now living in the almshouses, she supports herself by taking in laundry or doing a little occasional cleaning, such as helping to prepare the Rechabite Hall* for Mrs Lawler-Levene's special meetings.
[* The Rechabite Hall is nowadays better known as Shirley Parish Hall.]
 Sunday 6th December 2009
Speaker: Dr Jonathan Conlin (University of Southampton)
Dr Conlin outlined how popular leisure activities changed in Southampton and across Britain between the late eighteenth and early twentieth century, a period marked by urbanisation and the Industrial Revolution, as well as the integration of Shirley into the City of Southampton.
Drawing on local examples of cricket matches, racing meets, and related events, Dr Conlin traced a shift from unregimented, community-policed sports pursued at various points in the week and on various holidays, to more regulated activities organized around a clearly defined "working week" by a range of church, Temperance, and other voluntarist groups. The Victorian project of creating so-called "Rational Recreation" claimed most of the credit for this shift. Too much credit, Dr Conlin suggested, drawing attention to the internal paradoxes which dogged this overwhelmingly middle class project, which tended to categorize its would-be beneficiaries as either redeemable strays or irrevocably lost sinners.
In the late 19th Century attitudes to leisure changed again, from "rationalisation" to "routinisation", from voluntaryism to a focus on leisure facilities as a civic responsibility motivated more by public health concerns than any overtly religious or moralizing agenda.
Dr Conlin concluded by placing St.James' Park in this Edwardian context. The suggestion by Michaela Lawler-Levene that the hall in which he was speaking may once have been designated a Temperance Hall made this point most felicitously*.
[* This was confirmed at the 7th March 2010 talk: according to the publication "Local Studies Group, Discovering Shirley, Volume 4" (2nd ed. reprinted July 1999), the current Shirley Parish Hall was built around 1925, as a Rechabite Hall. The Rechabites were indeed a Temperance Society.]
4b. "Protecting Shirley's History – St.James' Road Conservation Area"
Speaker: Helen Green (from Southampton City Council's Historic Environment Team)
Prior to Dr Conlin's talk, Helen gave a presentation on the St.James' Road Conservation Area.
5. "An Historical Snapshot of Shirley Recreation Ground / St.James' Park through the Life of a Park Bench"
Speaker: Michaela Lawler-Levene (FoSJP History Coordinator)
Michaela drew together the threads of the previous talks and showed how they linked to the fascinating early history of the land which is now the Park.
Michaela's talk was split into two halves: the pre-Park history and the subsequent formation of the Park, and a snapshot into the life of the Park through the story and images of a park bench.
This talk was dedicated to Mr Arthur House, aged 90 on 1st March 2010, and who had shared his personal story. Arthur had arranged his first date with Winnie Payne, aged 15, on a bench in Shirley Recreation Ground. The couple went on to marry in St.James' Church in 1940. During World War II, Arthur, a Southampton FC player, was called away into the Navy, leaving Winnie and her young son behind. They would often use the Recreation Ground and think of Arthur whilst he was away at sea. On retirement the couple followed their son out to Canada, until the death of both his son and his wife, in 2006, brought Arthur back to Southampton to reunite with family. The bench became symbolic of Winnie's and Arthur's life together and he would pass by remembering that first date. This all changed when one day the bench had been vandalized and disappeared.
This was a moving presentation which highlighted the depth of personal attachment associated with local parks and special places of remembrance. Michaela also used video footage of the past Park Warden, Norman Burnett, and young FoSJP members, Abigail and Byron, to share past Park memories and future hopes for the Park.
 Sunday 7th March 2010
Your Feedback
Thank you to everyone who completed a feedback form at the final session. We thought you might be interested in the results, which have encouraged us to organise another series, starting in Autumn 2010.
I enjoyed the series of talks:
I would come along to future free talks…
…even if there were a small charge:
The refreshments made a difference:
I have done something new as a result of these talks: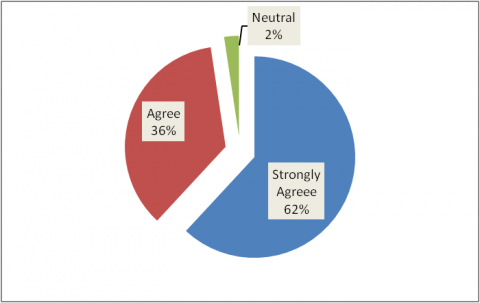 I feel that learning about the history of my local area is important:
I am interested in joining FoSJP's research activities:
These results include feedback from additional forms returned after the Shirley Heritage Project newsletter of March 2010 went to press.
Additional comments and suggestions for future topics:
If talks are free anyone can come. A charge, however small, will exclude people on a low or fixed income. These talks must be inclusive: we are one community.
Thanks – had a lovely time.
Although I'm not from the Shirley area, I will make a point of visiting the Park. Thank you for an interesting talk.
I would be interested to hear about local architecture and building styles in the area.
It's very important for younger people to appreciate what has come before them.
A talk for children about Shirley's schools (from a junior FoSJP member).
Publicity for talks could have been better, e.g. via FoSJP newsletters.
Topics for future talks: History of Didcot, Newbury & Southampton Railway.
Topics for future talks: History of the Tramways:

Why did it become necessary?
Who built it?
Where were the trams manufactured?
Was the tramway life-changing for residents of this area?

Perhaps local schools could work with FoSJP and present jointly a topic of interest – community links are very much a feature of Ofsted!
Well done Michaela – excellently organised (from a FoSJP committee member).
Could not always hear well, even when a microphone was used, because head was turned away by speaker.
Tell how the gardens will be planted, and with what each season.