Saturday, 28 February 2015

12:28 pm
Summer 2012
Jamie's Playtime's Summer 2012 season, which finished on Monday 20th August, included sessions with the following themes:
Jamie's Olympics
How to Play for Less (Recycling)
Beach Day
Stay Safe
October Half-Term 2011
Jamie's Playtime came back to St.James' Park for a special one‑off session on Monday 24th October in the half‑term holiday: the first time it has been held outside summer.
This session was organised as a linked event with the Ashby Centre in nearby Stratton Road. Activities in the Park included: scarecrow making, welly walking through paint, mask making, sand play with diggers, and basepoint running sports activities for children of all ages; many other activities took place at the newly re‑opened Centre. Chalk markings on the pavements between the Park and the Centre helped point people in the right direction between the two venues, and SureStart registered 63 people at the Park and 128 people at the Centre.
Summer 2011
Jamie's Playtime's Summer 2011 season, which finished on Monday 22nd August, included sessions with the following themes:
Fun in the Sun
Communication
Safety
The Environment Around Us
Heritage & Diversity
Celebration
Heritage & Diversity – Monday 15th August 2011
"Round and Round the Garden…"
One of Summer 2011's events was Heritage & Diversity, at which FoSJP History and Drama celebrated the Park's World War II heritage by presenting songs and nursery rhymes, including old favourites such as "Where Oh Where Has My Little Dog Gone?", "How Much Is That Doggy in the Window?", and "Round and Round the Garden like a Teddy Bear".
Teddies were very important to children in the past, so everyone was invited to find a teddy for the songs.
For those that wanted to try on hats from the past, original World War II Army and ARP helmets were on hand, to the cries of "Put that light out!"
When the siren and aeroplane sounds went, it was time for pretend aeroplanes and crawling through the tunnels into the shelters (pop‑up play tents), where the make‑believe World War II schoolmaster read a story.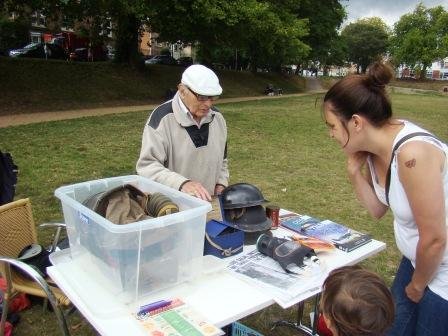 World War II artefacts on display
Thanks to Southampton City Council Arts and Heritage and Johnny Carrington, both original and replica World War II artefacts such as gas masks, helmets, an ARP badge, and identity cards were available for older siblings and parents.
FoSJP member Ken Conway, aged 88, previously a World War II Air Raid Warden, was able to shed more light on what the artefacts were and how they were worn.
Children getting stuck into their Art at Jamie's Playtime
Summer 2010 saw St.James' Park once again hosting the summertime play sessions Jamie's Playtime.
The 2-hour sessions ran every Monday afternoon from 12th July to 16th August; sadly the final session had to be cancelled because of a severe weather warning in Southampton.
The sessions were run by Sure Start Children's Centres in partnership with local health visiting services, the Children and Young People's Information Service (CYPIS), and Police Community Support Officers, as well as the Youth Service who provided activities for older children and teenagers.
The sessions were once again very successful, attracting between 60 and 90 families every week. Children enjoyed a range of play activities organised by local arts and play providers, focussed around themes of Fit for Life and Sun Safety, Literacy, Music, Healthy Eating, and Celebrating Play.
These events are a great opportunity to meet with other families and enjoy messy play and fun outdoors in St.James' Park. We hope to organise another programme of events for Summer 2011.
Messy Play Day – Monday 16th August 2010
"Flowers in the Park" on Messy Play Day
One of Summer 2010's events was Messy Play Day, as part of which a FoSJP team, including junior schoolchildren, set up "Flower Art" activity stalls for the young children to create their own flower-based artwork to brighten up the Park.
Here are photographs of some of the fine work turned out by Jamie's Playtime's "budding" young artists:
Summer 2009
The Summer 2009 programme included the following events:
Fun in the Sun – including a mini-beach and puppets
Mad 4 Music – making and playing musical instruments, singing, and sports fun
Green Balloon Club – a BBC CBeebies event
Teddy Bears' Picnic – with singing and a visit from the Fire Service
Bug Week – exploring creepy crawlies with the Hawthorns Urban Wildlife Centre
Around the World – dance, instruments, and food from around the world
Pyjama Party – bedtime fun, sports, games, and singing
It was another very successful programme, with more than 450 children attending at least one Jamie's Playtime event.
Summer 2008
Jamie's Playtime kicked off in the Summer of 2008.